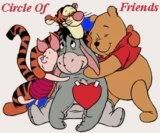 Today, I would like to give a shout out to my bloggy friends. I am thankful that I have met so many wonderful people via their blogs. It is great to have a connection with each one of you. I know that if I am in need of advice you will be there for me and the same goes for me. I have learned so many interesting things through my blog friends. We have shared a lot with one another.
Awh...you guys are the greatest and I love all of you.
So today I am thankful for you that read my blog and share your thoughts and friendship with me.