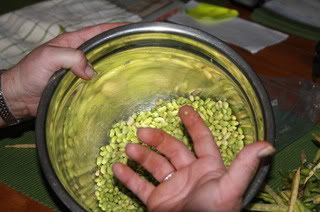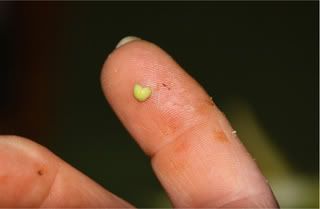 There is nothing I like more than shelling peas. These Lady Cream Peas are from Hubs' garden. He is the one with the green thumb. He is the one that nurtures and waters the garden everyday. He is the one that weeds the garden and fertilizes the garden. My only job is to shell the peas and then cook these tender little morsels of goodness.
While I was shelling the peas, I noticed this very tiny little pea and upon further inspection I noticed it was in the shape of a heart. Out of all the peas I have shelled I must tell you this was a first for me. It just reminds me of all the TLC that Hubs puts into his garden.
For me the memory of shelling peas on my grandmother's glider takes me to another wonderful memory, so I thank my darling Hubs for being such a good gardener. So far we have had yellow crook neck and summer white scalloped squash, tomatoes, new potatoes, onions, green beans, bell pepper, jalapenos, corn on the cob, okra and lots of these yummy cream peas. I wish you could taste how good it is, but for now the pictures will have to do.
I hope you have a great weekend. I finally got through this bout of arthritis and today I was able to finish up some major projects. I am feeling very satisfied with the results. I stared last week, but got side lined. I cleaned out two closets, organized my photos for scrap booking, moved some furniture with the help of my sister, cleaned off my table and vacuumed. I even did a little exercise on my elliptical. I am so very thankful for this burst of energy.
I am trying to get things organized because my oldest son, wife and kids are coming down briefly to get the travel trailer. My sister had moved into the travel cottage last year while she was down. She moved the last of her things out of it today and then left to go home to Louisiana to see her grand kids. She will be back when my son is here.
Take care and have a good weekend. I hope I can even get out of bed tomorrow.